Health Care Assistant (HCA) | Caregiver  Training Institute and Certification.
If you're looking for a rewarding career helping others locally and internationally especially within the EU, UK, Ireland, Australia, USA & Canada; it is a good idea to consider earning a Care Assistant Certification. There are several advantages to obtaining this certification following Online Application HERE.
The Care Assistant Certificate demonstrates set of standards that health and social care workers adhere to in their daily working life. Designed with the non-regulated workforce in mind, the Care Assistant Certificate gives everyone the confidence that these workers have the same introductory skills, knowledge and behaviours to provide compassionate, safe and high quality care and support.
TRAINING PROGRAMME COVERS 4 MAJOR STREAMS:
1) Basic Home & Personal Care Assistant Training
2) Aged Care for Elderly (with medical conditions eg. Hypertension, Diabetes, Peptic Ulcer Disease, Dementia etc )
3) Disability support care
4) Creative care for children

Over the course of your training, you'll cover a number of key modules related to delivering care. These include:
Awareness of mental health, dementia and learning disability
Basic life support
Communication
Duty of care
Equality and diversity
Fluids and nutrition
Handling information
Health and safety
Infection prevention and control
Personal development
Privacy and dignity
Safeguarding adults
Safeguarding children
Understanding your role as a care assistant
Working in a person-centered way
DURATION: 6 weeks period of lectures [weekends only] and practical engagement at care facility where you will be exposed to few call duties during the day and at night during the week days.
BASIC ENTRY REQUIREMENTS
You must
be 18+ years old and of good character
have a good understanding of written and spoken English
possess a minimum of SSCE/GCE Certificate or appropriate level of literacy
provide referees or guarantors
knowledge of healthcare setting will be an advantage but not essential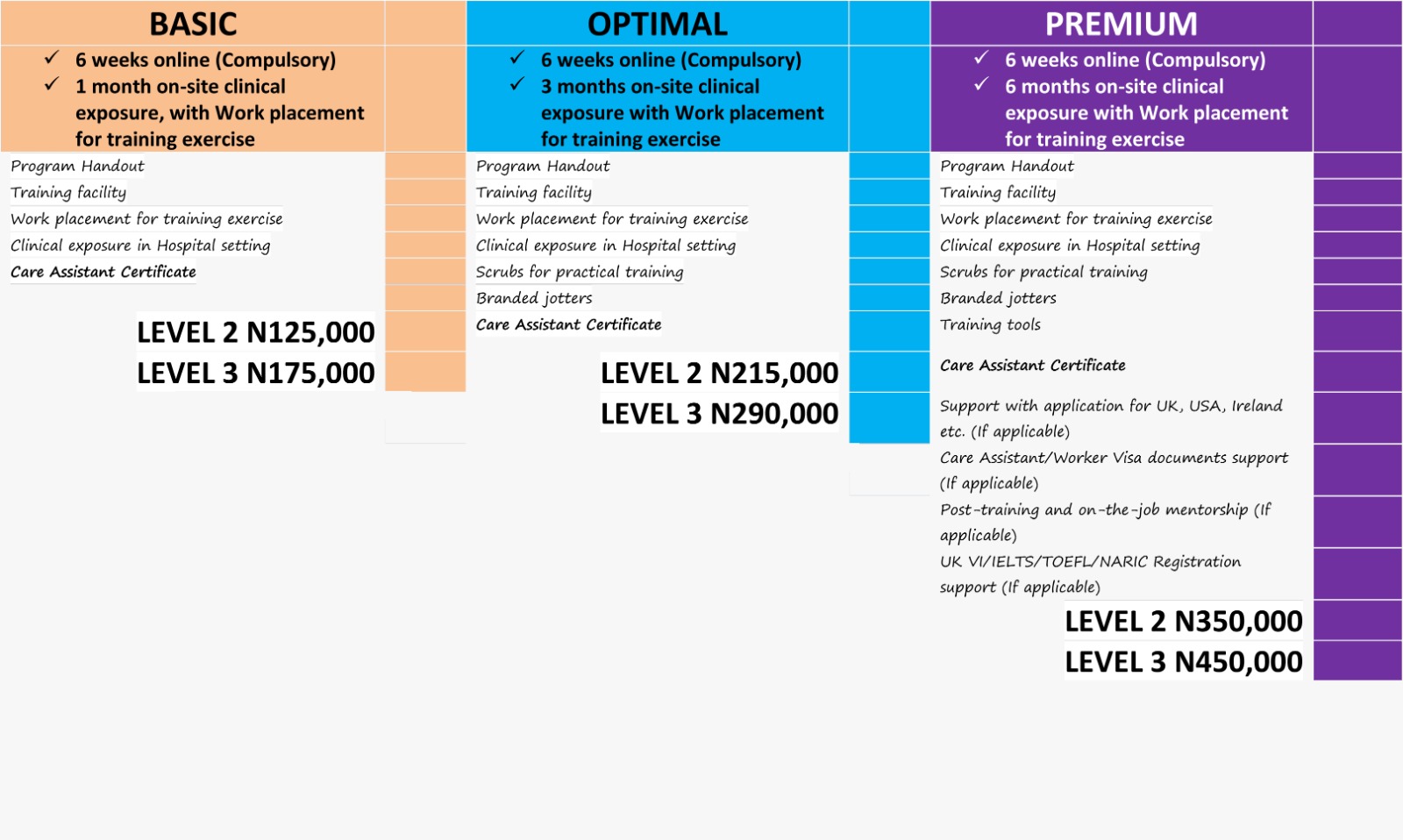 Package Covers: Course handouts, work placement for training, scrubs for practical training, branded jotters, lunch, training tools, support with application for UK, USA, Ireland etc. Care Assistant/Worker Visa support documents, post-training and on the job mentorship, Care Assistant Certificate
[Mainly Saturdays and Sundays]

NEXT BATCH
Every first weekend of every month.
Registration and enrollment are still ongoing!
For further concerns:
Call/Text: +2347030620212
WhatsApp only:
+2348022268113
+44 7706 204130
Dr. Lawson Usiemwanta
Consultant, Project strategist & manager including Global health – University of Washington.
Consultant – Foreign Educational placement of International students for diverse country destinations. Chairman Board of Directors – Lasbegy services LLC.
Elective Placement benefactor at Nottingham & Newark NHS Trusts.
Medical Director and Private Medical Practitioner – Elinosa Medical and Diagnostics services (EMDS).
Audubon Bio-banking USA – Project coordinator in Southern Nigeria.
Attended Medical school in Ukraine since 2006 Alumni of Kharkiv National Medical University.
Mrs. Oviosun Abieyuwa Joyce
Lecturer, School of health technology, Benin City, Edo state.
MLS, Ministry of Health, Benin City, Edo state.
Nationality: NIGERIAN
Location: NIGERIA
Mr Eminik Usiemwanta
Neurological Care Support Worker – NHS, England (UK).
Student Nurse – BSc. in Nursing (Learning Disabilities) at Edge Hill University, UK.
Liaison Officer in Media Technology – FSNAid (www.fsnaid.org) Organisation, Nigeria and the UK.
CEO/Multi-genre Music Producer – Eminik, UK.
Mr. Brume Michael Omoefe
IT/Business Development Consultant
Biochemist, Information Technology and Project Manager
Nationality: Nigerian
Country: Nigeria